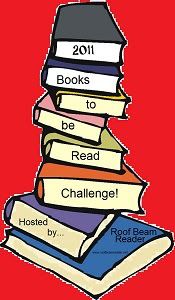 I'm joining another reading challenge! The
2011 TBR Pile Challenge
put on through the Roofbeam Reader.
The rules:

The Goal:




To finally read 12 books from your "to be read" pile, within 12 months.


Specifics:



1. Each of these 12 books must have been on your bookshelf or "To Be Read" list for AT LEAST one full year. This means the book cannot have a publication date of 1/1/2010 or later (any book published in the year 2009 or earlier qualifies, as long as it has been on your TBR pile - I WILL be checking publication dates). Caveat: Two (2) alternates are allowed, just in case one or two of the books end up in the "can't get through" pile.




2. To be eligible, you must sign-up with Mr. Linky below - link to your list (so create it ahead of time!) and add updated links to each book's review. Every listed book must be completed and must be reviewed in order to count as completed.




3. Your list must be posted by Friday, December 31st, 2010.


4. Leave comments on this post as you go along, to update us on your status. Come back here if/when you complete this challenge and leave a comment indicating that you CONQUERED YOUR 2011 TBR LIST! Every person who successfully reads his/her 12 books and/or alternates (and who provides a working link to their list, which has links to the review locations) will be entered to win a $50 gift card from either Amazon.com or The Book Depository!




5. There may be mini-challenge "check-ins" throughout 2011, to award and recognize those participants who are progressing through the challenge, such as a "Spring Break Check-In!" or a "6 Month Pit Stop!" Participants who are making equal progress to-date (6 books at the 6 month check-in, for example) could win a prize!


6. Crossovers from other challenges are totally acceptable, as long as you have never read the book before and it was published pre-2010!


*Note - You can edit your list through Dec. 31st. As of 1/1/2011, the posted list needs to be final. Also, you can read the books on your list in any order; they do not need to be read in the order you have them listed. :)
My 12 choices! Most of these are either traditional fantasy (which I typically don't like) or have been recommended to me by a friend and I haven't made it to them yet.
1. A Hitchhikers guide to the galaxy by Douglas Adams
2. Shades of Gray by Jasper Fforde--he's my favorite author but I haven't made it through this book yet
3. American Psycho by Bret Ellis--I've pretended to have read this book for years, time to actually do it
4. Outlander by Diana Gabaldon
5. Furies of Calderon by Jim Butcher--I don't like traditional fantasy but I love Jim Butcher
6. The Gunslinger by Stephen King
7. The Devil in the White city by Erik Larson
8. The Hot Zone by Richard Preston
9. Self-made man by Norah Vincent
10. The Marioka Sisters by Tanizaki
11. Lamb by Christopher Moore
12 The Color of Magic by Terry Prachett
And my alternates:
1. The Host by Stephanie Meyer--I'm sure it's going to be awful but I need to return it from the friend that lent it to me
2. Ariel by Steven Boyett